At master level, debtor level and company level it is possible to input contact persons. These contact persons will also receive an alert depending on the HR Signal settings and Payroll Workflow settings. It is therefore important that the input for these contact persons is entered correctly and that the correct email address is entered.
Company level

For an example, let us consider the creation of a contact person at company level. This is done in the same manner as on debtor level. It is also possible to create an Accountant contact person. This is done on Master level under 'Global Settings' in Accountant Contact.
1. Go to the company level.
2. Click on the menu button on the top right of the screen and select 'Contact' under 'General'.
Adding contact persons

Adding a 'Staff Member'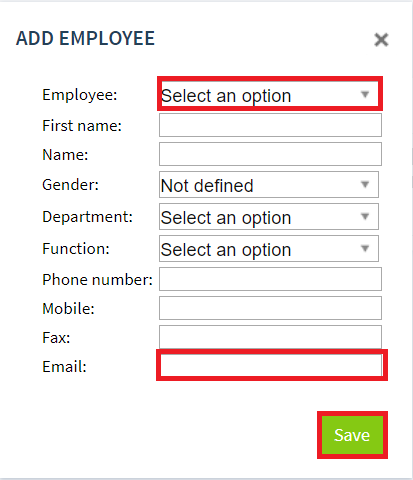 1. Select an employee and enter the data.
2.Please note: when alerts have to be sent to the contact person, the email address must be entered here.
3. Click on 'Save'.
Multiple contact persons

You can create several contact persons. Provided an email address has been entered, alerts are sent to all contact persons on this list. You will see the email addresses in the overview ' Alerts sent'.
1. Select a default contact person. The name of this contact person will then be displayed on the start page.
2. Do you want to remove a contact person from this list because, for instance, he no longer needs to receive alerts? Then click on 'Select Contact Persons'. You can, of course, also delete the contact person by clicking on the grey cross to the right of the contact person.
Editing contact persons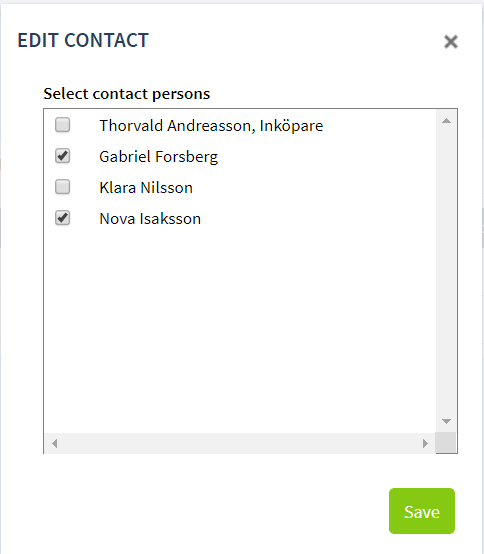 Here you can check/uncheck contact persons who will be included on the list and who receive alerts.
Click on 'Save'.