Convert your data with PAXml via the Nmbrs® Converter.
What data can be converted?
What file type do I need?
The file has to have a .pax format.
How do I use the PAXml Converter?
1. To use the PAXml converter make sure to have downloaded the Nmbrs Converter.
2. Open the Nmbrs Converter and choose PAXml in the field 'Converter'. Choose 'Select File' to upload the PAXml file.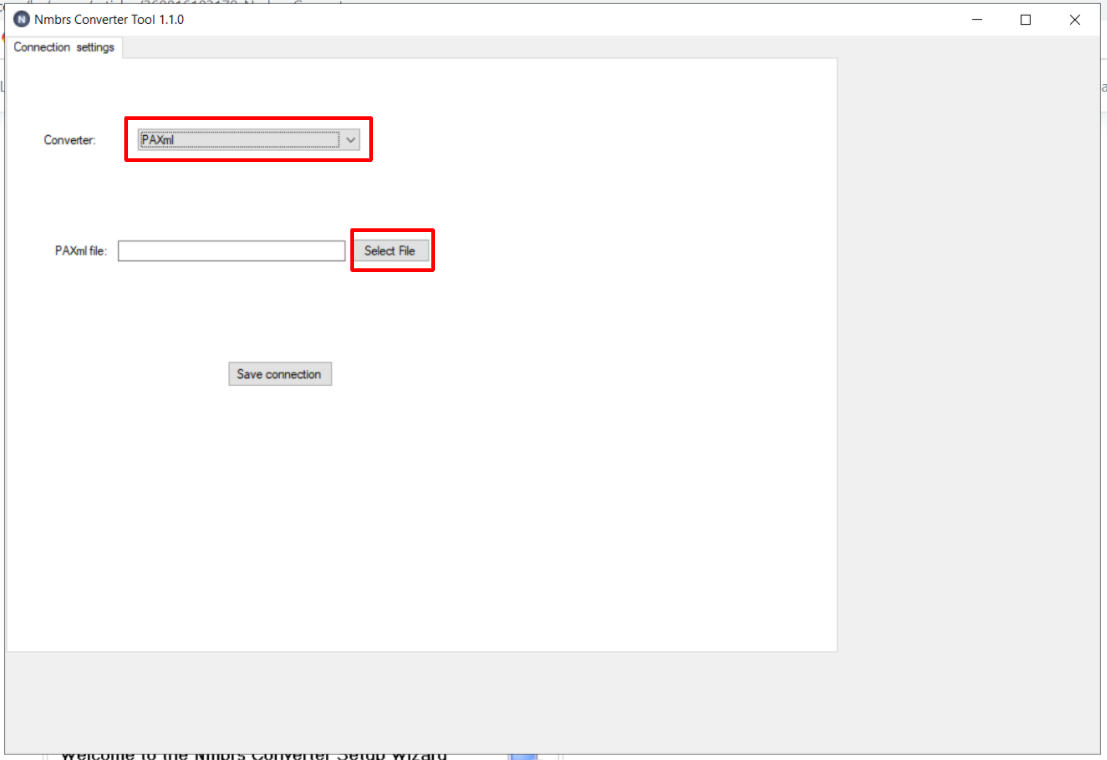 3. Click on 'Save connection' and it's been successful when you get a pop up 'Connection successful'.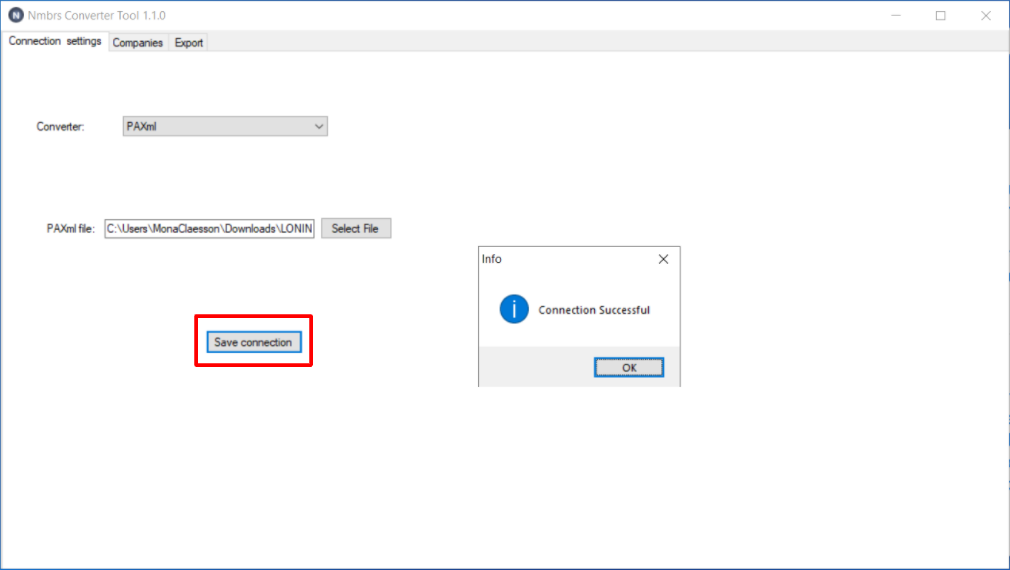 4. To continue, click on the 'Companies' tab and tick the box to choose which company/companies to import.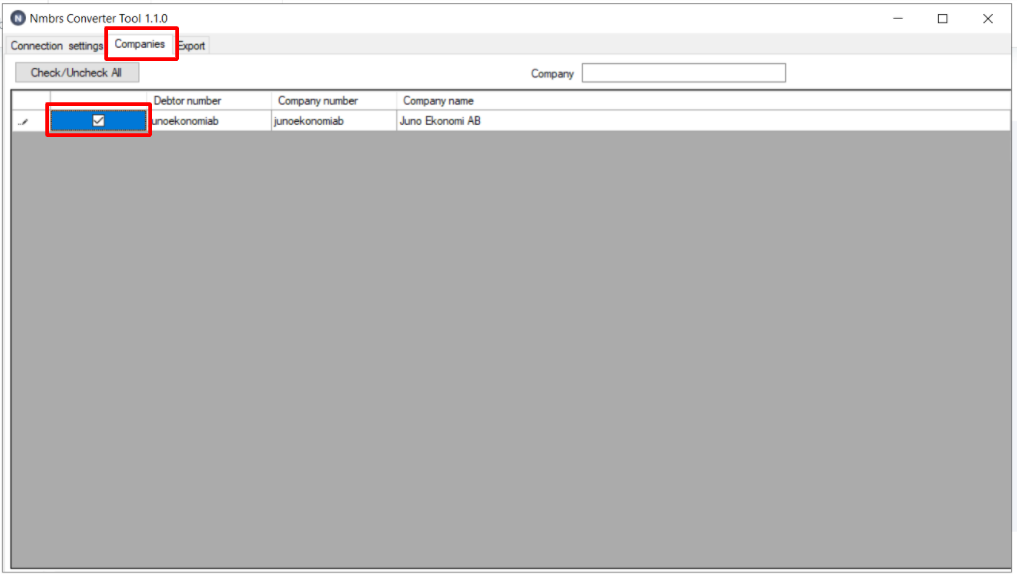 5. Go to Export tab. If you select 'Out of service date' it makes sure you don't export employees out of service after your selected date. If you select 'Convert debtor no to number' debtor numbers are exported as actual numbers.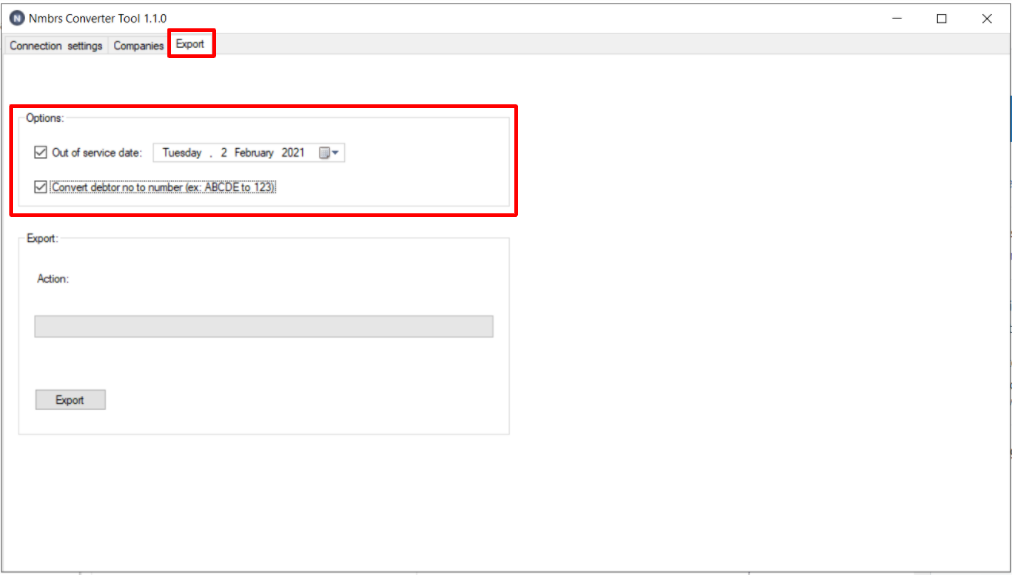 6. To export the file, click on the Export tab and then 'Export' button. Save the file on your computer.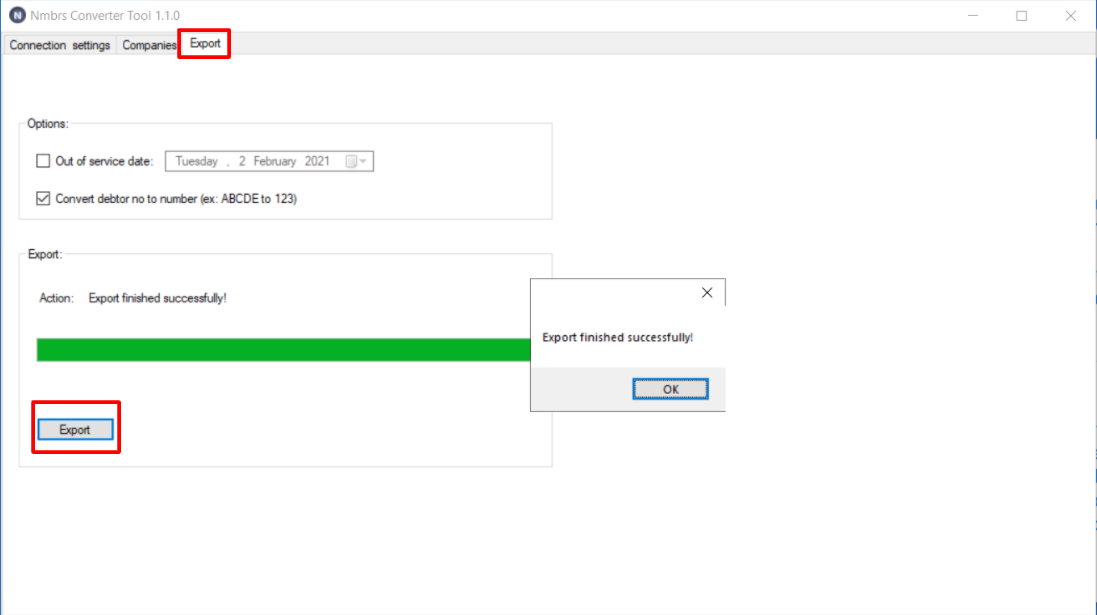 7. Ready to import? You can read all about it here.
NOTE: if the conversion returns an error, please contact our support!
Company tab
| | | |
| --- | --- | --- |
| Import | Debtornr | filled, 1 by default |
| Company data | Companynr | filled, 1 by default |
| | Name | filled |
| | Phone | |
| | EmailAddress | filled |
| | Website | filled |
| | LabourAgreement | |
| | DefaultCompanynr | |
| Address | Street | |
| | City | |
| | ZipCode | |
| | ProvState | |
| | CodeLand | |
| Postaddress | PostAdress | filled |
| | PostCity | filled |
| | PostZipCode | filled |
| | PostProvState | |
| | ContactFirstName | filled |
| | ContactLastName | filled |
| | Contactphonenr | filled |
| | ContactMobilenr | |
| | ContactEmail | |
| Salary | PayInAdvance | |
| BankAccount | BankAccountnr | |
| | Bankgiro | |
| | BIC | |
| | IBAN | |
| | BankName | |
| | BankCity | |
| | BankZipCode | |
| | BankPhone | |
| | BankAddress | |
| | BankCountry | |
| | CustomerNumber | |
| WageTaxNumber | WageTaxNumber | filled |
| | CompanyName | |
| | StartPeriod | |
| | StartYear | |
| Bookkeeping software | Bookkeepingsoftware | |
| Worflow Settings | WorkflowSettingsnr | |
| Note | Note 1 | |
| | Note 2 | |
| | Note 3 | |
Employee tab
| | | |
| --- | --- | --- |
| Import | Debtornr | filled, 1 by default |
| | Companynr | filled, 1 by default |
| | LabourAgreement | |
| EmployeeData | EmployeeNr | filled |
| | FirstName | filled |
| | LastName | filled |
| | Marital Status | |
| | NamePartner | |
| | FiscalNr | filled |
| | PhoneWork | |
| | MobileWork | filled |
| | PhonePrivate | |
| | MobilePrivate | filled |
| | PhoneOther | |
| | EmailWork | filled |
| | EmailPrivate | filled |
| | Gender | |
| | BirthCity | |
| | BirthDate | filled |
| | CodeBirthCountry | |
| | CodeNationality | |
| Address | Street | filled |
| | City | filled |
| | ZipCode | filled |
| | ProvState | |
| | CodeLand | filled |
| Contract | ContractType | filled |
| | InServiceDate | filled |
| | OutofServiceDate | |
| | ContractDefinite | |
| | EndofContract | |
| | SeniorityDate | |
| Employment | CodeFunction | |
| | CodeDepartment | |
| | CodeCostCenter | |
| | ManagerNr | |
| Schedule Settings | ScheduleNumber | |
| Salary | BaseSalary | filled |
| | GrossSalaryPct | |
| | GrossHourSalary | |
| | NettoSalaryInclWC | |
| | NettoSalaryExclWC | |
| | NettoHourSalaryInclWC | |
| | NettoHourSalaryExclWC | |
| | EmployerCosts | |
| | GrossHourSalary1 | |
| | GrossHourSalary2 | |
| | NettoHourSalary1 | |
| | NettoHourSalary2 | |
| BankAccount | AccountStandard | filled |
| | BICStandard | |
| | IBANStandard | |
| | Account2 | |
| | BIC2 | |
| | IBAN2 | |
| TaxSettings | TaxType | |
| | TaxForm | |
| | TaxTableNr | filled |
| | TaxTableColumn | filled |
| | TaxPerc | |
| | TaxFixedValue | filled |
| | TaxBaseValuePerc | |
| | SpecNummer | filled |
| | Delagare | |
| EmployerCostSettings | RDTaxCredit | |
| | RSTaxCredit | |
| Pension Settings | employment Type | Filled |
| | Part owner | |
| Leave Settings | TotalDaysPerYear | Filled |
| | MinDaysTakenPerYear | |
EmployeeSchedule tab
| | | |
| --- | --- | --- |
| Import | ScheduleNumber | |
| EmployeeSchedule | DayNumber | |
| | StartTime | |
| | EndTime | |
Functions tab
| | | |
| --- | --- | --- |
| Import | Debtornr | |
| Function | CodeFunction | |
| | FunctionName | |
CostCenters tab
| | | |
| --- | --- | --- |
| Import | Debtornr | |
| | Companynr | |
| CostCenter | CodeCostCenter | |
| | CostCenterName | |