Depending on the type of subscription you have, the Explorer tab gives access to three levels: debtor, company & employee level. Accountants have access to all levels. Business customers only have the company and employee level available
Debtor level
On debtor level, the general setting of the client are managed. Several overviews that contain information of the debtor are available as well.

Op debiteurniveau staan verschillende kopjes met functionaliteiten.
Information
Here you manage the information of the client and adjust the details of persons of contact, managers and the service level.
Documents
Here you can create templates, upload documents and import companies easily with the Nmbrs importsheet in Excel.
Salary settings
Here you can create (and adjust) branches, general ledger schemes, wage models, hour models and salary tables. Please note: everything that is created here (at debtor level) can only be used by companies that are located under this debtor.
ESS / MSS
If you use manager logins, employee logins or document viewers, this is the place to adjust links and RSS settings.
Signals
You set when signals are sent and to whom they are sent. You can also view and check all sent signals from this debtor here.
Provided items employee
Here you enter company cars and benefits, including specifications. You can then select these benefits in for employees under this debtor.
Integration
Here you can set up webhooks to send to an external party.
Leave
View the leave overview and approve open leave requests from employees.
Absence
Here you can manage everything concerning absences: view absence overviews, add case managers, add actions to an absence of employees and set up a link with an Occupational health service.
User accounts
Here you create user templates and user accounts for the customer.
HRM settings
Create departments, functions and projects for the time registration module. The holiday model can also be found here.
Company level
At the company level, you manage the company and salary settings. The actual processing of the payroll administration for the company is also done at this level.
Here you can also find the salary documents (such as the SEPA file and the journal entries).

The company level contains six tabs; Start, Payroll, General, Settings, HR Settings and Overviews.
Start
On the company's homepage, you can add almost any dashlets available at the company level. You can decide for yourself which dashlets you add here, for example frequently used options.
General
In this tab you enter all general administrative data of the company: name and address details, contact persons, current period and active year, company wage components and cost centers.
Payroll processing
Via the Payroll tab you process the payroll administration, send the wage tax declaration, pension declarations and you can view and download payroll and HR documents.
Salary settings
Here you can set, among other things, branches, general ledger schemes, wage models, reservations, svw tables and payroll tax numbers. Any settings you create or change here only apply to this specific company.
HR settings
Via this tab you manage the HR settings of this company: calendar, mutation forms, action items, leave settings, templates, etc.
Overviews
This tab shows various salary and HR reports. You can view and download these overviews.

Acties
Via the button "Actions" you create a new employee or copy an employee by means of a wizard.
Employee level
At employee level you manage the employee's personal data and his HR and salary data.

The employee level contains seven tabs; Start, Payslips, General, Employment, Labour conditions, HR and overviews.
Start
On the employee home page you can add almost all dashlets available at the employee level. You can decide for yourself which dashlets you add here, for example frequently used options.

Payslips
This tab shows the next (pro forma) payslip. After making a change (for example a salary change), you will immediately see what consequences this will have for this employee's payslip.

General
This tab shows the general information of an employee such as personal information, employee login and tax settings.

Employment
Via this tab you manage the employee's employment settings such as the contract and the salary settings.

Labour conditions
Via this tab you manage the employee's labour condition settings such as wage components, reservations, branche settings and company car settings.

HR
This tab is used for all HR related settings such as an HR workflow, absence and employee documents.
Overviews
Overviews on employee level give insight in payroll and HR data for the specific employee only.

Actions
Via the button "Actions" you can report the employee out of employment or create a double employment contract.
Adjusting the look and feel of the dashboard
You can adjust the dashboard on the Home tab to your own wishes: for example, you can move or delete dashlets. You can also make dashlets visible or invisible. To do this, open the list of possible dashlets via "Edit" at the top right (with 4 gray squares next to it). Here you can then make dashlets visible / invisible.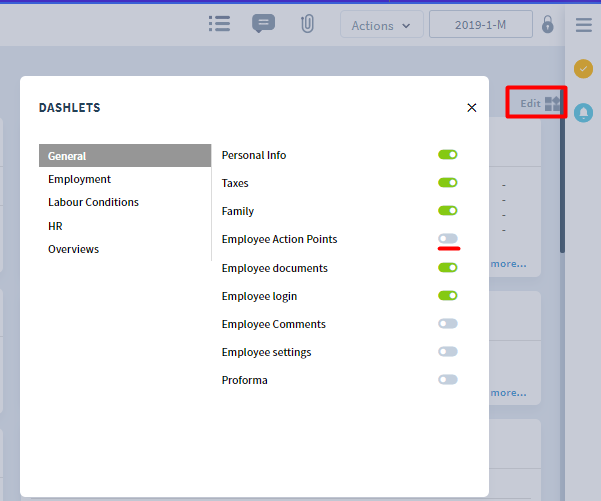 The detail page
There is a detail page behind each dashlet. To view it, click on "more ..." at the bottom of the dashlet.

You can make changes and / or view the change history via the detail page. To make changes, it is not always necessary to go to the relevant detail page first. You can also click on the data in the dashlet itself and edit it directly.
An overview of all employee settings is now also visible on the left. From this overview you can directly select other employees and make changed to the same type of settings.