Convert your data from Hogia with the Visma Nmbrs Hogia Converter.
What data can be converted*?
*small differences may exist depending on the version of Hogia.
What file type do I need?
To use the Hogia Converter you will need an export from Hogia. The file needs to have a .bak or .HPZ format and needs to be smaller than 15 MB. How to get this export can be checked with Hogia.
How do I use the Hogia Converter?
1. Go to Settings in the main menu and use the search bar to select the Hogia converter.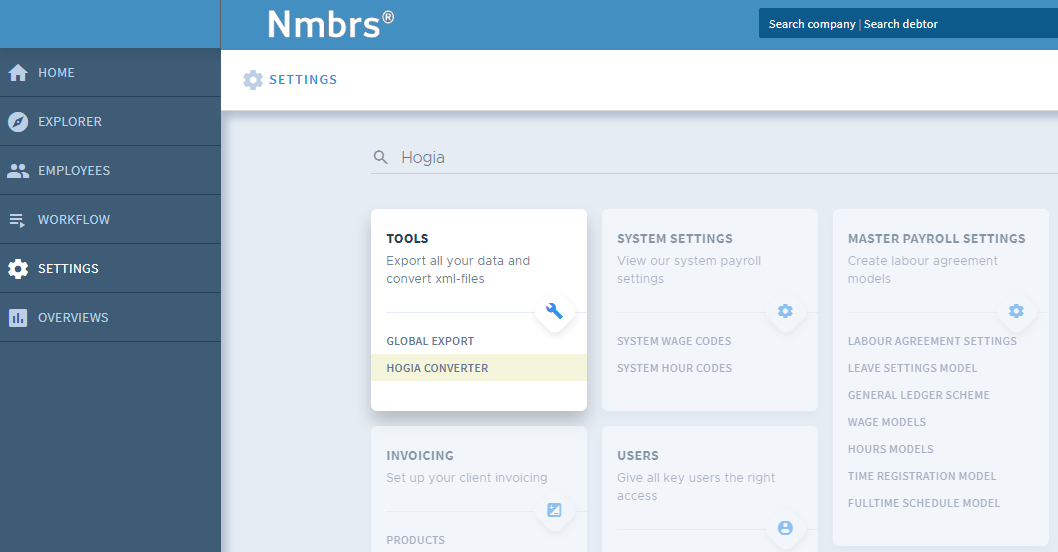 2. Browse to select the file and click 'Upload & Convert to Nmbrs Excel'.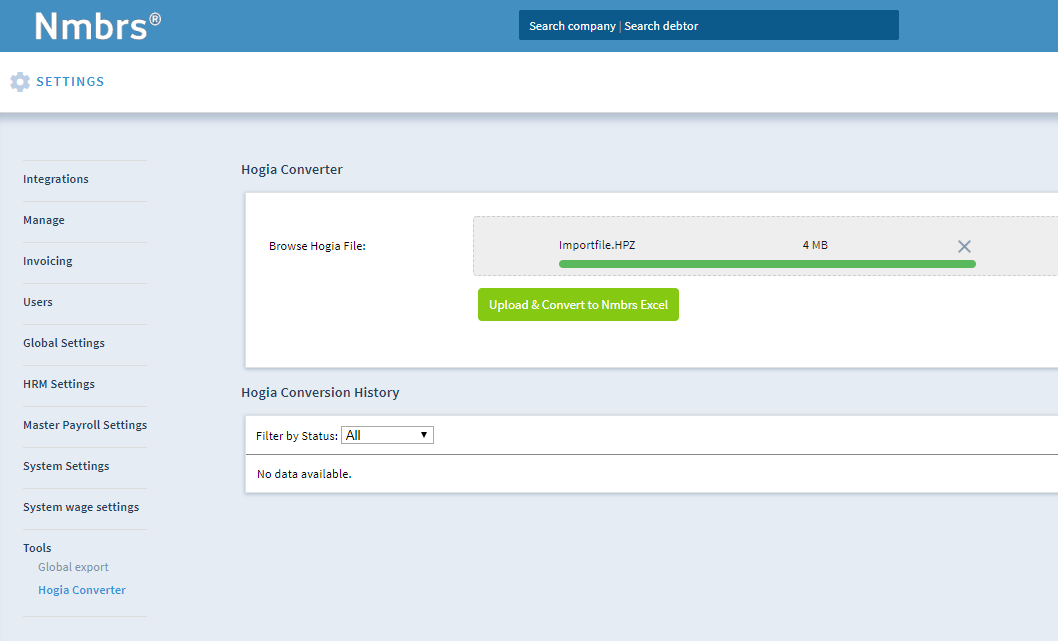 3. The uploaded file will show in the "Hogia Conversion history" as 'in Progress'.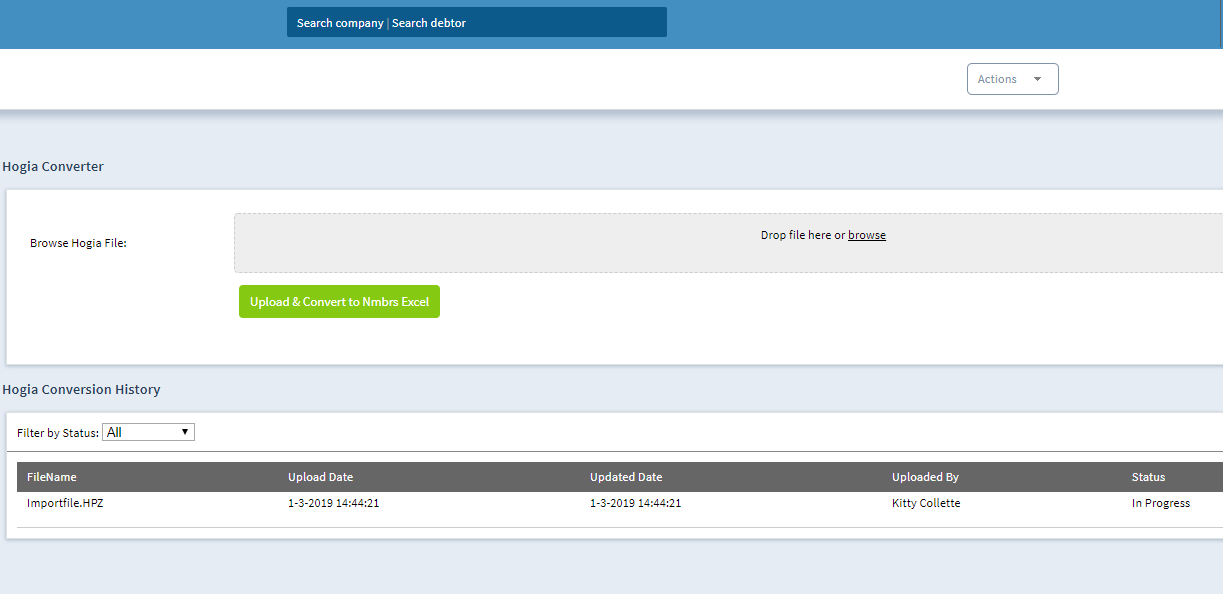 4. When the conversion is finished a download icon will appear that allows you to download the Nmbrs® importsheet (.xlsx).

Make sure to check the content and add any missing data before moving on to the next step.
NOTE: if the conversion returns an error, please contact our support!
5. Ready to import? You can read all about it here.
Company tab
| | | |
| --- | --- | --- |
| Import | Debtornr | |
| Company data | Companynr | filled, 1 by default |
| | Name | filled |
| | Phone | |
| | EmailAddress | |
| | Website | |
| | LabourAgreement | |
| | DefaultCompanynr | |
| Address | Street | |
| | City | |
| | ZipCode | |
| | ProvState | |
| | CodeLand | |
| Postaddress | PostAdress | |
| | PostCity | |
| | PostZipCode | |
| | PostProvState | |
| | ContactFirstName | |
| | ContactLastName | |
| | Contactphonenr | |
| | ContactMobilenr | |
| | ContactEmail | |
| Salary | PayInAdvance | filled, 0 by default |
| BankAccount | BankAccountnr | filled |
| | Bankgiro | filled |
| | BIC | |
| | IBAN | |
| | BankName | |
| | BankCity | |
| | BankZipCode | |
| | BankPhone | |
| | BankAddress | |
| | BankCountry | |
| | CustomerNumber | filled |
| WageTaxNumber | WageTaxNumber | filled |
| | CompanyName | filled |
| | StartPeriod | |
| | StartYear | |
| Bookkeeping software | Bookkeepingsoftware | |
| Worflow Settings | WorkflowSettingsnr | |
| Note | Note 1 | |
| | Note 2 | |
| | Note 3 | |
Employee tab
| | | |
| --- | --- | --- |
| Import | Debtornr | |
| | Companynr | filled |
| | LabourAgreement | |
| EmployeeData | EmployeeNr | filled |
| | FirstName | filled |
| | LastName | filled |
| | Marital Status | |
| | NamePartner | |
| | FiscalNr | filled |
| | PhoneWork | filled |
| | MobileWork | |
| | PhonePrivate | filled |
| | MobilePrivate | |
| | PhoneOther | |
| | EmailWork | |
| | EmailPrivate | filled |
| | Gender | filled |
| | BirthCity | |
| | BirthDate | |
| | CodeBirthCountry | |
| | CodeNationality | |
| Address | Street | filled |
| | City | filled |
| | ZipCode | filled |
| | ProvState | |
| | CodeLand | filled |
| Contract | ContractType | filled |
| | InServiceDate | filled |
| | OutofServiceDate | filled |
| | ContractDefinite | filled |
| | EndofContract | |
| | SeniorityDate | |
| Employment | CodeFunction | filled |
| | CodeDepartment | |
| | CodeCostCenter | filled |
| | ManagerNr | |
| Schedule Settings | ScheduleNumber | filled |
| Salary | BaseSalary | filled |
| | GrossSalaryPct | |
| | GrossHourSalary | |
| | NettoSalaryInclWC | |
| | NettoSalaryExclWC | |
| | NettoHourSalaryInclWC | |
| | NettoHourSalaryExclWC | |
| | EmployerCosts | |
| | GrossHourSalary1 | |
| | GrossHourSalary2 | |
| | NettoHourSalary1 | |
| | NettoHourSalary2 | |
| BankAccount | AccountStandard | filled |
| | BICStandard | |
| | IBANStandard | |
| | Account2 | |
| | BIC2 | |
| | IBAN2 | |
| TaxSettings | TaxType | filled, 1 by default |
| | TaxForm | filled, 1 by default |
| | TaxTableNr | filled |
| | TaxTableColumn | filled |
| | TaxPerc | filled |
| | TaxFixedValue | filled |
| | TaxBaseValuePerc | filled |
| | SpecNummer | filled, 1 by default |
| | Delagare | |
| EmployerCostSettings | RDTaxCredit | filled |
| | RSTaxCredit | filled |
| Leave Settings | TotalDaysPerYear | filled |
| | MinDaysTakenPerYear | |
EmployeeSchedule tab
| | | |
| --- | --- | --- |
| Import | ScheduleNumber | filled |
| EmployeeSchedule | DayNumber | filled |
| | StartTime | filled |
| | EndTime | filled |
Functions tab
| | | |
| --- | --- | --- |
| Import | Debtornr | |
| Function | CodeFunction | filled |
| | FunctionName | filled |
CostCenters tab
| | | |
| --- | --- | --- |
| Import | Debtornr | |
| | Companynr | filled |
| CostCenter | CodeCostCenter | filled |
| | CostCenterName | filled |