Default company settings
With the Default company setting, you can copy the company settings from a default company to a new company. In that case, you don't need to import all settings manually into a new company.
Please note: A default company must also perform a year transit annually. This can be done manually by changing the active year and modifying the starting year and starting period. This can also be completed using the Year transit wizard, but the Start up Wizard must first be completed for these companies.
The company settings that can be copied from the default company to the new company to be created are:
General
Pension export settings (these are not set to active, because of the required verification)
Process Payroll
Fast input settings and form(s)
Payroll settings
Company settings
Full-time schedule
Company tax settings
Default employee
Workflow settings
Labour agreement model
General Ledger Scheme
Salary document settings
HR
Leave settings (including age rates per leave saldo)
Master function model
Extra fields settings
NOT copied
Settings that are NOT copied:
Tools
Mutation form model and wage model for mutation forms
If your default company is linked to the master settings, the new company will also be linked to these master settings. So the data itself is not copied, but the new company does depend on the same master settings as the default company. This happens for:
Master wage model

Master hours model
Master branch rules
Master General Ledger Scheme
Default company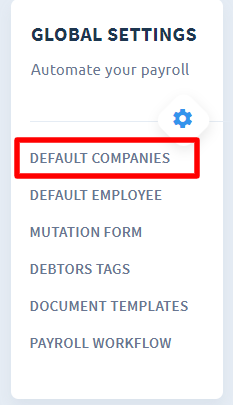 On the Settings tab, you can select the Default company.
New default

Default company

Select the company that you want to set as the default company.
Creating a new company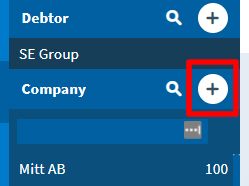 Create a new company on the Explorer tab.
You can select the default company for all debtors; it's not linked to a particular debtor.
Select the default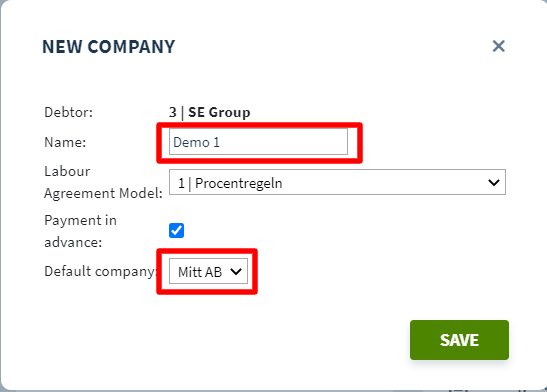 Create the new company with a new name. Select the default company created and save the new company. You can also create companies using the import/export tool and based on default settings. Enter the number of the default company (company number) under 'Default company' on the 'Company' tab.
You will then see the above-mentioned settings for the new company. These settings are the same as the ones for the default company.