If you are a time registration/workforce management software, you are in the right place!
The intention of this guide is to give you directions on where to look for information regarding how Visma Nmbrs works and how it fits into your type of platform.
Firstly, we recommend you to check out the overview of the Visma Nmbrs basics:
Data flow
Usually, there is a two-way flow between Visma Nmbrs and the time registration integrations, in which the connected software retrieves employee data and sends hours data to Nmbrs.
Visma Nmbrs is the system of records for employee data, which means that all the information regarding employee salary, contracts and schedule is recorded and managed in Nmbrs and then synchronized to the planning software.
The hours are registered in the planning software and inserted in Nmbrs® as hour components.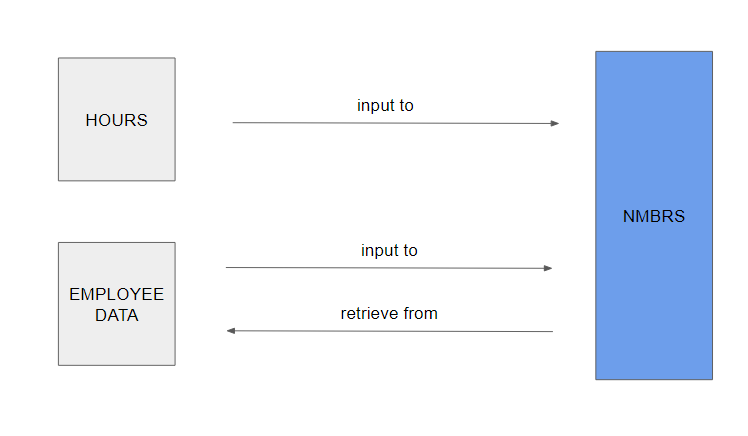 API calls for Planning integration partners
These are the basic set of calls to connect a planning software to Nmbrs. More calls can be used as needed, just check the API Reference.
Most data is usually retrieved per company, which is necessary to keep the partner software in sync with the data modified in Nmbrs:
Retrieve all employee data per company:
PersonalInfo_GetAll_AllEmployeesByCompany




Address_GetAll_AllEmployeesByCompany




Contract_GetAll_AllEmployeesByCompany




Salary_GetAll_AllEmployeesByCompany

Schedule_GetAll_AllEmployeesByCompany
Insert hours:
HourcomponentVar_Insert

HourComponentVar_Insert




DaysVar_Set



Retrieve the hour components available for a company:
HourModel_GetHourCodes

HourModel2_GetHourCodes
Wage and hour components
When integrating with Visma Nmbrs there are mainly 2 cases when you are going to send information.
Sending hour components, you will have to send the days as well.
For hour component methods search for "HourComponent" and for days, methods search for "Days" on Employee Service.
For employee wage component methods search for "WageComponent" on Employee Service.
For company wage component methods search for "WageComponent" on Company Service
Note: wage and hour components and days can be fixed or variable. Once a fixed component is inserted, it will be automatically inserted by the system every period until the given end period or if the component is deleted. Variable components will only appear once in a period.