A proforma gives you an estimate of the monthly net amount and employer costs for a new employee. It also let you see what kind of payslip would be used for an employee who is not in employment/entered in Nmbrs yet, so you can also see what the employer's costs would be.
PLEASE NOTE: If the 'Payslips' tab below the 'Employee' header in the template is set to 'NONE' or 'READ', then it is not possible to apply proformas. You also cannot apply any features within the proforma that you do not have the rights to apply in real life.

The current company settings are applied, and you can create a proforma based on an existing employee or a 'default employee'.
Creating a proforma
On the company level, you can find the proforma by clicking on the Menu button (1) at the upper right side of the screen and then clicking on 'Proforma' (2) under 'Payroll Run'.

Select which year the proforma refers to. When you click the plus sign, you are given the option to create a new proforma.

Afterwards, you can fill in all the necessary information for the proforma.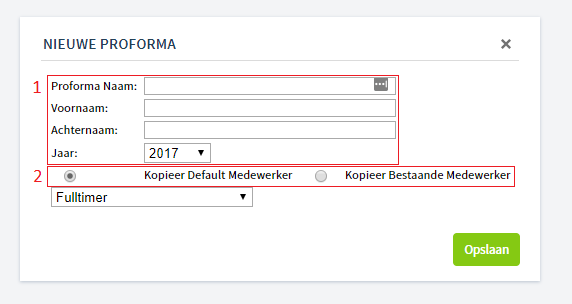 Fill in the required name and the year the proforma refers to.
Select here whether you want to use a default employee or an existing employee.
Once all the information is filled in, click 'Save' and then you will immediately go to the proforma.
PLEASE NOTE: An existing employee can only be selected if the employee is currently employed (today's date).
Adjusting the proforma
You can edit the proforma by clicking on the relevant names (just as you would when using the interactive payslip). If you click on 'Pers. No.', for example, the 'Personal Information' dashboard will open and you can edit it.
The run check is also carried out on the proforma. Click on the coloured block to see any items that may be incorrect.
By clicking on the .pdf logo, you can download the proforma payslip as a .pdf file.
Just like in the interactive payslip, you can easily add permanent and/or variable wage components here.
The adjusted proforma is automatically saved.